Understanding Your Aid
After you've accepted your financial aid offer, it's time to use your awarded funds to help pay for your education.
Accepting, Reducing, Declining or Canceling Aid
Find Your FAN

Find your Financial Aid Notification (FAN) on the CASH page in UT Direct and select "Activate My Financial Aid Notification."

Decide

After reviewing your awards, decide whether to accept your awards in full or make changes to your aid and answer the prompt accordingly.

Make Changes

To reduce, decline or cancel your aid, select "Make Changes" when reviewing your aid summary and follow the prompts as needed.

Reduce. You can reduce individual awards, except grants and scholarships or previously accepted loans and work-study, for individual semesters down to the minimum award amount by changing the figure in the "Accepted Amount" column.
Decline. You can decline individual awards, except grants and scholarships, for individual semesters by entering $0 (no decimals) in the "Accepted Amount" column.
Cancel. If you choose to cancel your offer, you are canceling and refusing your entire financial aid offer for either or both semesters. You can cancel individual semesters by checking the "Cancel" box. Check this box if you will not be enrolling in one or more semesters.

Confirm

Once you have confirmed or made changes to your financial aid awards, you will need to confirm your enrollment or report any expected changes and report additional resources that will help you pay for college.

Acknowledge

Finally, acknowledge your information, and read and confirm the certification statements and any other required information. You have now activated your FAN!
For more detailed information about accepting, reducing, declining or canceling your financial aid offer, watch the How to Accept Your FAN video.
Release of Financial Aid
Financial aid funds will be released on a rolling basis about a week before the first day of class each semester.
Make sure your financial aid releases on time by keeping your enrollment information up to date and taking care of outstanding requirements on CASH.
Paying with Financial Aid
Once your funds are released, financial aid will automatically be applied to your UT debts, such as tuition and housing.
To use financial aid to pay your tuition, on My Tuition Bill, click View Bill and, if your financial aid fully covers your tuition and fees, click Pay with Financial Aid. The Pay with Financial Aid button will not be available if your financial aid does not cover all of your tuition and fees.
Because financial aid funds are not released until after the tuition deadline, your tuition bill will state a balance due until the funds are released.
If your financial aid does not fully cover your bill, you will need to pay the remaining balance by the tuition bill deadline.
More information on paying tuition
Scholarships
College and Departmental Scholarship Funds
If you are awarded a scholarship by your college or academic department, that college or department will handle the posting of the scholarship while the Scholarship and Fellowship Services office in the Office of Accounting will oversee the disbursement of the funds. All questions regarding these types of scholarships should be directed to your college/department administration and the Office of Accounting.
Outside Scholarships
The majority of private donor scholarships are handled by the Office of Scholarships and Financial Aid (OSFA). In most cases, scholarship donors will send checks directly to OSFA for processing, but not always. If you receive financial aid and will be receiving a private scholarship, please report the scholarship through your Financial Aid Notification. For more information, watch the How to Accept your FAN video above.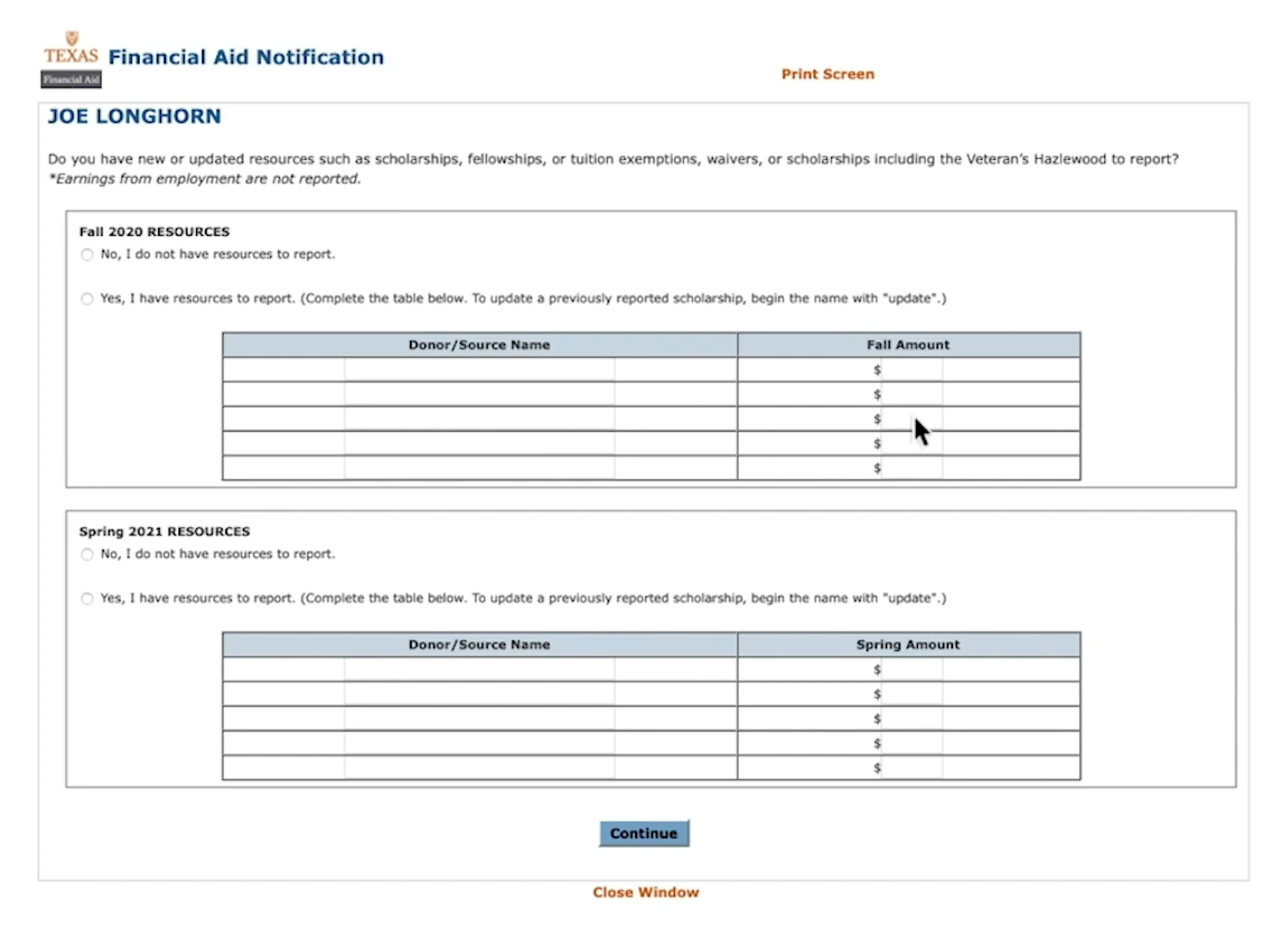 If a donor sends a scholarship check to you instead, and it is payable to you only, you must report it to OSFA immediately.
If a donor sends a scholarship check to you and it is payable to UT or it is co-payable to you AND UT, you should:
Endorse it.
Add your UT EID to the face of the check.
Mail it immediately to:The University of Texas at Austin
Attn: EMBS
1616 Guadalupe, Mail Stop E3700
Austin, TX 78701
Once classes begin and you are registered for the required number of hours, the scholarship funds will be sent to you either by paper check or, if you have already designated a bank with Student Accounts Receivable, by direct deposit.
Some private donors may want to verify your enrollment at UT before releasing any funds. For unofficial proof of enrollment, you may print your fee bill straight from My Tuition Bill. For official enrollment verification, contact the Certification section.
Refunds
After your UT debts are paid, any excess financial aid will be refunded to you to help pay for books, transportation and other miscellaneous costs.
If you signed up for direct deposit, your refund will appear in your bank account in 2 to 3 business days.* If you did not sign up for direct deposit, a paper check will be sent to the address we have on file in five business days. Direct deposit can be set up in UT Direct. For instructions and additional information, visit Set up Direct Deposit for Your Refunds.
If excess financial aid funds are sent to an account that has been closed or is no longer valid, contact Payment Information at 512-471-1083 for assistance. This is also the number to call if you believe your financial aid check has been lost in the mail.
*In rare cases, financial aid funds are handled differently than above. If you choose an alternative loan lender that does not participate in UT's electronic processes, a paper check will be mailed to the university. These checks will be made available for you to pick up at the Cashier's Office.
Education Abroad
UT encourages students to experience different parts of the world through study abroad programs. The Office of Scholarships and Financial Aid office works closely with Texas Global to coordinate the financial aspect of studying abroad. Financial aid can be used to help pay for your study abroad programs, but only if you participate in a university-affiliated study abroad program.
Summer Sessions
To be eligible to receive financial aid during summer sessions, you'll need to have completed both the 2022-23 and 2023-24 FAFSAs and be registered for the minimum number of hours required:
Undergraduate: 6 hours
Graduate: 3 hours
Law: 3 hours
Please note that most summer aid packages include loans, not grants or scholarships. Loan amounts are based on your remaining aid eligibility from the preceding spring and fall semesters. If you received your full allotment of federal loans during the fall and spring semesters, we will not be able to offer you any additional loan funding for the summer. If you are completing your degree in either the summer or the fall semesters and have exhausted your annual loan limit, you may be eligible for a prorated loan award, but you'll need to complete the Request for Aid Review Due to Graduation form for the Office of Scholarships and Financial Aid to review.
Proof of Identity
Before financial aid can be released, you must have an upgraded UT EID. To upgrade your EID, visit the ID Center in the Flawn Academic Center to sign the Electronic Agreement Form. You will need to present a valid, current government-issued ID. New and transfer students will have the opportunity to upgrade their EIDs during Orientation.
FERPA Release for Financial Aid Information
If you would like your parent or guardian's help with the financial aid process, or your parent or guardian wants information about your financial aid, you will need to first complete and submit a release form to the Office of Scholarships and Financial Aid to grant your parent or guardian access. You can complete the FERPA Release Authorization form online:
Log in to your Check Aid Status Here (CASH)
Find the "FERPA Release" section.
Select the "Create a FERPA Release Authorization" link to complete the form.

You must provide a password on the release form that will authorize your parent or guardian to access your financial aid information. Please share this password with your parent or guardian. He or she must provide the correct password to Texas One Stop to be able to discuss your financial aid information.
This release only allows Texas One Stop and Financial Aid staff to discuss your financial aid with your parent or guardian. It does not allow your parent or guardian access to your CASH page. Also, this release does not give your parent or guardian access to other FERPA-protected information such as grades or class schedules.
For more information about the Family Educational Rights and Privacy Act (FERPA), visit the Privacy page.
Back To Top