FAFSA Verification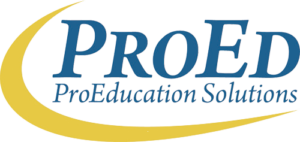 UT Austin is pleased to announce our new partnership with ProVerifier+ powered by ProEducation Solutions for the 2022-2023 FAFSA. ProVerifier+ is a software that makes the financial aid process easier and faster to complete by allowing students to securely send and receive documents, such as financial aid verification forms, for review and signature from any electronic device using Adobe Sign.
Verification
Verification is a review process in which the accuracy of various data elements reported by you/your parent(s) on the FAFSA is determined. The U.S. Department of Education selects approximately 30% of all aid applicants for verification. The verification process ensures that students receive all the financial aid they are entitled to receive, and prevents ineligible students from receiving aid they are not entitled to receive.
Those selected are required to complete the verification process before financial aid eligibility can be determined. If your FAFSA application is chosen for verification, you will receive an introductory email from ProVerifier+ to your UT email address. Use your UT email address and password to log on to the external ProVerifier+ Student Portal where you will electronically complete and sign the required forms using Adobe Sign. You can complete verification from your smart phone, tablet or computer.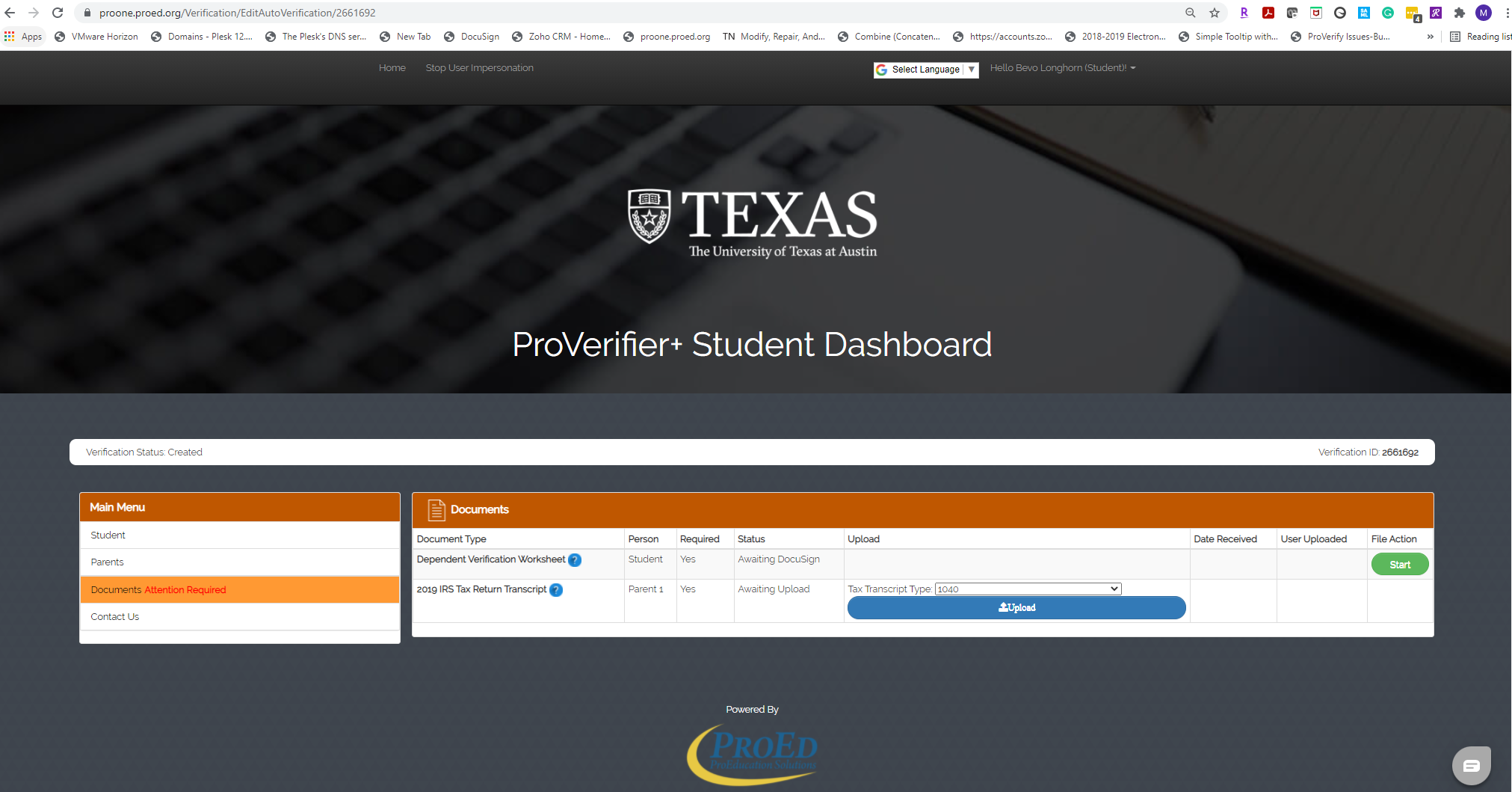 After logging in you will be able to review and complete the following items:
Financial Aid
Financial Aid Status
Aid Year = 2022-2023
Submit
Review Requirements
Upon receipt of all required documents, the automated verification process will begin. Students will be notified via email or text if there are any questions or if any additional documentation is required.
Have more questions? Visit the student FAQ below or ask BevoBot chat.
FAQs
What is ProVerifier+?
ProVerifier+ is a software powered by ProEducation Solutions, which enables you to complete verification 100% online from a smart phone, tablet, or computer.
What will I have to provide in the ProVerfier+ student portal?
The automated ProVerifier+ system communicates directly with the IRS on behalf of you and/or your parent(s) to obtain official IRS tax transcripts.
You and/or your parent(s) will only be required to electronically complete and eSign an IRS Form 4506-T/C Form and a Verification worksheet- ProVerifier+ will do the rest!
Will I receive phone calls or texts from ProVerifier+?
You may receive voice calls or text messages regarding verification. They will prompt you to log on to ProVerifier+.
What kind of emails will I receive from ProVerifier+?
You should expect to receive an email from ProVerifier+ in the following situations:
Initial Email: generated when student is identified for verification processing
Welcome Email: generated after student initially logs into the ProVerifier+ Student Portal
Missing or Incomplete Email: generated every 5 days when documents are missing or incomplete
Additional Documents Requested Email: generated when subsequent items are added to the student checklist
Confirmation Email: generated when a form is successfully completed
All Documents Submitted Email: generated when all verifications documents have been submitted by student
Verification Corrections Email: generated when student's file moves to the awaiting corrections queue
Verification Completed Email: generated when ProVerifier+ completes verification
Other custom messages as needed
What is Verification?
Verification is a process used to confirm that the data reported on your FAFSA is accurate.  You will be asked to provide documentation to support the information you reported on the FAFSA.
If you are selected for verification, you will be required to submit documentation such as Federal Tax Transcripts, W2s, and a verification worksheet by the deadline presented.  Financial aid will NOT disburse to your account until your documentation is submitted and reviewed.
How do I know if I was selected for verification?
Look for an asterisk* on your Student Aid Report (SAR) next to your Expected Family Contribution (EFC) on the top right of the first page that is sent to the e-mail address you provided on your FAFSA.
Starting early October 2021, you may also receive an introductory email from ProVerifier+ at your UT Austin email address. The email will contain instructions on creating a ProVerfier+ account to complete verification. All students selected for verification on a 2022-23 FAFSA will receive this email.
Why was I selected?
Your FAFSA may be selected for verification at random, or because you supplied incomplete or inconsistent data on your application.  Verification is a federal regulation and ensures that eligible students receive all the aid for which they qualify.  If you were selected, you will receive an email at your student email.
What if I was not selected?
If you are not selected for verification, you could still be asked to provide other information to complete your financial aid file. Your CASH page displays any required documents or additional information needed.
What do I need to do?
The required documents will be listed on your ProVerifier+ Student Portal Dashboard. You can find the link to the UT Austin ProVerifier+ Student Portal in the email you receive from the Financial Aid Office.
What if I am undocumented and cannot request a Verification of Non-Filing (VONF) from the IRS?
IF REQUESTED, individuals without a Social Security Number (SSN), Individual Taxpayer Identification Number (ITIN), or Employer Identification Number (EIN) must provide a signed and dated statement certifying they do not have any of these. In addition, they will need to list the sources and amounts of earnings, other income, and resources used to support the household for the tax year. If applicable, a copy of the W-2, 1099, or other equivalent document for each source of employment must be provided.