Payment Verification and Refunds
Payment Verification
My Tuition Bill will display the message "Your registration is complete" when your initial payment has posted.
Overpayment
In the case of overpayment, a refund is generated two weeks after the payment is processed. If you have unpaid bills that are due or past due, the overpayment will be transferred to pay those bills rather than being refunded.
Set up Direct Deposit for Your Refunds
Direct deposit is an easy, secure method that transfers funds directly and automatically to your bank account.
For your student account, make sure your information is updated in UT Direct.
Direct deposit for your student employment paycheck (including work study) can be set up through Workday. To set up direct deposit, you will need your bank's routing number and your bank account number, both of which can be found at the bottom of a personal check.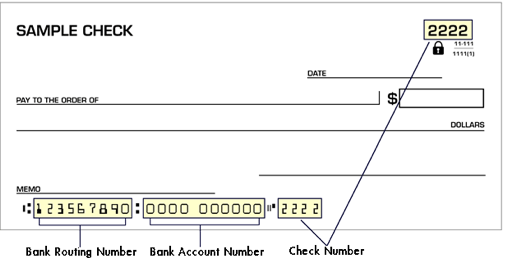 If you do not have a personal check handy, or if you are depositing your funds into your savings account, you can usually find the routing number on the website of your bank or credit union. If you are at all unsure of your routing or account number, contact customer service of your bank or credit union.
Refunds from your student account can be referenced on "Where's my check". Funds are normally transferred from your student account to your bank account in 3–5 business days.
Update Your Mailing Address
If you do not sign up for direct deposit, a paper check will be sent to the address on file. Review your addresses in UT Direct to make sure your address is correct.